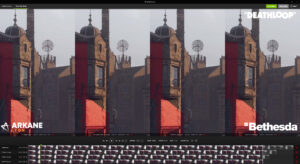 Nvidia's Spatial Image Scaler may now be used on both Intel and AMD GPUs thanks to a recent upgrade to Lossless Scaling. This will enable gamers to play at reduced resolutions in order to increase frame rates without sacrificing image quality.
Lossless scaling is a third-party tool that allows anyone with any GPU to do image upscaling without the annoying side effect of blurring in their video games. Integer scaling is used by Lossless Scaling to accomplish this objective.
Lossless scaling, on the other hand, has evolved into much more than just an integer scaler; it recently added AMD FSR to its feature list and is now integrating Nvidia's image scaler as well. This implies you can use a GPU to test several upscaling strategies from a single application.
The picture scaler from Nvidia has been around for a while, but it got a major improvement in the newest GeForce Game Ready driver. A 6-tap filter with four directional Scaling and new Scaling and sharpening algorithms have been added to the scaler. As a result, the scaler can eliminate the negative impacts of image upscaling, such as staircase effects and artifacting, even more effectively than before.
Nvidia also released an SDK for its picture scaler, allowing any developer to use it in any game or application.
Nvidia's latest upgraded image scaler is basically on par with AMD's own FSR technology, according to testing. The loss in detail between FSR ultra quality mode and Nvidia's Image Scaler's highest resolution is effectively comparable in the test image below.