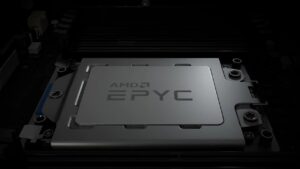 At SeiMaxim, we don't have a preference for any particular piece of hardware. Aside from individual preferences, we all agree that our clients' needs are our primary considerations when it comes to finding the best possible solution for them.
However, the SPEC (Standard Performance Evaluation Corporation) comparative metric tests do have value, and the results of these tests are sometimes simply too overwhelming to leave much room for debate. This is especially true for AMD's 3rd Generation EPYC "Milan" processors, which are the latest in the company's CPU line.
It's hard to argue with AMD's EPYC chips after they took first place in all 16 categories of the SPECspeed2017 and SPECrate2017 tests (according to tests run and published by NextPlatform). However, what does that imply for your business? AMD EPYC has what it takes to produce such impressive results. Is it a good idea for your company to make the switch?
What is EPYC?
EPYC is a series of enterprise-grade x86-64 microprocessors designed and released by AMD that utilize their proprietary "Zen" microarchitecture.. The EPYC line of processors offer premium alternatives to AMD's desktop Ryzen models, with support for more RAM, higher core counts, and increased PCI Express lanes. These processors were developed with scalability, hyperconverged infrastructure (HCI), and cloud native app development for large and growing organizations in mind.
In addition to being certified for use with VMware and Nutanix, AMD has established itself as a major player in the data center industry by partnering with HPE, Dell, and Lenovo. Your organization can stay on the cutting edge of technology while maximizing the value of your initial investment thanks to AMD's focus on hyperconverged infrastructure.
As of 2019, AMD's EPYC Gen 2 processors represented an enormous leap forward in terms of technology, saving the company from bankruptcy and allowing it to take root in an industry that had previously been dominated by Intel.
As of now, AMD's EPYC Gen 3 Milan processors have already broken more than 100 world records in a wide range of HPC and standard enterprise workloads since they were launched in March of 2019. In addition to a 19 percent performance boost over AMD's previous generation of processors, the new Milan processors feature higher core counts and more PCIe lanes based on AMD's new Zen 3 architecture.
The debate over Intel vs. AMD has only gotten louder as AMD's market share grows and their chips continue to lead the charge in powerful, efficient design. The battle for supremacy has become more one-sided since the release of both companies' Gen 3 options.
There you have it. Is there a clear cut winner here?
AMD vs. Intel
Since the dawn of the new millennium, AMD and Intel have been locked in a CPU chip arms race. As chip sizes continue to shrink and new models are released on a regular basis, both companies are vying to be considered the best in the industry. EPYC chips from AMD have significantly weakened Intel's grip on the market, even though Intel still holds a significant market share.
NextPlatform's tests show that Intel's Gen 3 Ice Lake processor (part of the Xeon Scalable line) lags behind AMD's Gen 3 EPYC and Gen 2 chips, respectively. This is particularly evident. Because Intel's newest chips were just released in April of 2021, they are unable to compete with AMD's 2019 chips, let alone the new Gen 3 that was released in March.
Now, this is not meant to degrade Intel in any way. Data centers all over the world have relied on Intel's Xeon Scalable servers for years. However, numbers don't lie, and recent speed and efficiency tests have yielded some notable results. Consider switching to an AMD-based processor if you've been thinking about it.
Here are a few stats from NextPlatform's tests that I think are worth mentioning:
Xeon Gen 3 outperforms EPYC Gen 2 by about 5.2 percent in 2-Socket Integer Performance (32 Cores across all three builds), but when compared to EPYC Gen 3, AMD outperforms Intel by about 27.6 percent.
EPYC Gen 3 performs 30.6 percent better than Xeon Gen 3 in 2-Socket Floating Point Performance (32 Cores across all 3 builds) – but even EPYC Gen 2 beats it by nearly 4%.
NextPlatform's assessment of the impact of EPYC vs Xeon on users' three-year TCO is one of the most interesting results from the test (Total Cost of Ownership).
AMD's Gen 3 EPYC chips are not only technically impressive, but also cost-saving due to their potential to reduce server costs by 34%, rack space investment by 50%, power consumption by nearly 42%, and administrative costs by 33%.
The two of them are a formidable force to contend with.
Two things should be kept in mind now: Although this does not invalidate NextPlatform's findings, it should be noted that this is a sponsored post. It is important to keep in mind that even if the positive results presented are accurate, any potential negatives may be downplayed in a sponsored review of a product.
Additional third-party test results for the 3rd Generation AMD EPYC chips have been limited since their official launch. It's possible that the general interpretation of these results will change over time as more testing is done.
Even so, it's impossible to ignore results like these. AMD's results would still be a resounding triumph even if one added a 5% margin of error. Even if the Ice Lake and Milan processors are priced similarly, AMD's increased performance means that your server investment can be cut in half while delivering the same output.
As a final benefit of the Milan processors, AMD's Gen 3 EPYC chips can run on Gen 2 EPYC platforms with a simple BIOS update. In contrast to Intel's approach of forcing new server platforms with each new release, this ensures easier upgrading and improves user adoption.
Intel Advantages
However, while AMD's results are impressive, buying a server is more complicated than simply looking for the fastest and most energy-efficient model. While these things are frequently significant, they do not stand alone as important considerations.
For example, AMD's Milan processors have 64 available cores and 128 threads, while Intel's new Ice Lake processors have 40 cores and 80 threads. This can be seen in NextPlatform's tests between the premium offerings of both models when comparing core counts.
3rd Gen AMD 64-core 7763 beats 3rd Gen Xeon Platinum 8380 (40 cores) by over 36% in 2-socket floating point performance. Similar results can be found in the 2-socket integer test, where the AMD 7763 beats out the Xeon Platinum 8368Q model by roughly 47%* (interestingly, the 38-core 8368Q model beat out Intel's 40-core 8380 model by about 5 points in this test).
However, what if you don't require 128 threads and 64 cores at all? Remember, not all workloads demand such a high level of power. Purchasing a more affordable model that is better suited to your specific needs may be a better use of your money, depending on the types of applications your company uses.
Intel continues to shine in this area.
Ice Lake still represents a significant leap for Intel with an average performance improvement of 46%, a memory capacity increase of 166%, and a memory bandwidth increase of 60% over their previous generation of Xeon servers. By offering nearly twice as many chip variations as AMD, Intel is allowing users to tailor their computers to their specific needs, which is ideal for businesses with defined goals. Intel's focus on 5G infrastructure is a good example of this.
By offering greater flexibility and a more reliable supply chain alternative, Intel is hoping to encourage the adoption of their new Ice Lake chips by mobile providers like Verizon. Intel's Ice Lake chips, on the other hand, have a maximum total memory capacity of 6TB, compared to AMD's 4TB.
It's not yet clear whether or not AMD will be able to overtake Intel's position in terms of pure performance. When it comes to intellectual property, "no one else in the industry has the intersection of (intellectual property), architecture, design, and manufacturing" that Intel has.
EPYC and SeiMaxim
A clear winner is unlikely to emerge in the battle between AMD and Intel. There is no one-size-fits-all solution in life, as there is with most things. AMD's Gen 3 EPYC processors, on the other hand, offer more powerful and cost-effective solutions than ever before, which could widen the gap between these two competitors. But the greater variety of specialized chips offered by Intel might better serve your current needs depending on the specific infrastructure and goals of your organization.
There is no one-size-fits-all hardware solution.
It doesn't matter whether you're a diehard Intel fan, a loyal AMD fan, or just someone looking for the best CPUs on the market, SeiMaxim has the solutions you're looking for. SeiMaxim's dedicated server solutions range from on-demand and custom dedicated servers to private bare metal clouds. Personalized, cost-effective solutions backed by the best industry support.
Check out our new AMD Server Page for a complete listing of our AMD EPYC servers, or visit our Dedicated Servers Page to see all of our instant and custom servers.