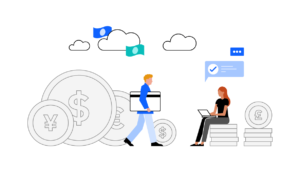 "Enterprise network" refers to the IT infrastructure that medium and large businesses use to connect users, devices, and applications. The goal is to help businesses achieve their goals by delivering connected digital services reliably and securely to workers, partners, customers, and, in the future, even things.
Enterprise networking architecture
While an enterprise network must provide services to users, things, and applications from start to finish, it may be made up of separate but linked domains. Usually, each network is built, set up, and optimized for its own purpose and business goals. Network types that make up a network are:
A campus, branch, and the Internet of Things (IoT): These three networks give users and things a place to stay and connect when they're away from home. They can be found in every part of an organization, from the office to the places where things are made and stored, like factories and warehouses. These networks are made for easy, secure, and high-density access.
On-premises and hybrid clouds: These networks connect data centers and cloud services. They also connect data centers and private or public cloud services. They're made for low latency, security, and mission-critical reliability, so they work well.
Wide-area networks (WANs): These networks connect buildings, campuses, and other facilities to other branches, data centers, or cloud resources in other parts of the country. They're made for the best user experience and the best use of your data.
Enterprise Network Evolution
Provide the foundation for the modern digital enterprise: Networks are expected to improve security, improve user experience, and support many devices that do important business tasks. People, devices, smart things, and applications can all use well-designed enterprise networks to get the same level of service every time.
Network controllers can be used: In modern enterprise networks, controllers are in charge of all of the network's functions. They do things like translate business goals into policies, automate network device operations, monitor performance, and fix things.
As more and more network transactions happen outside of traditional corporate boundaries, the network needs to be able to see, control, and protect users, things, and applications wherever they are. This is because of things like more public clouds, mobility, and working from home.
Enterprises are now adopting a holistic, open networking strategy that connects across different network domains and with applications and IT systems across the board. Such integrations allow for consistent performance, streamlined operations, better compliance, and better security enforcement in the whole company.
Enterprise Network Advantages
Always-on Connectivity
A well-designed enterprise network ensures that all users, things, devices, and applications in an organization have the appropriate connectivity for their role, purpose, and location.
Optimized User Experience
Through proactive network optimization, faster issue resolution, proper prioritization of essential traffic, and ensuring security and privacy, an enterprise network can help improve the user experience.
Digital Transformation Readiness
An enterprise network can be designed to support digital initiatives such as expansion, scaling, growth, and the introduction of new services in order to quickly adapt to rapidly changing needs.
Easier Network Management
Administrators can use network management tools like network controllers to set access rules and permissions for users and departments, add new users or functions quickly, and monitor and correct performance all from a single interface.
Improved Security
An enterprise network becomes a primary detector of threats and enforcer of security and compliance, in addition to security applications and devices such as firewalls and secure Internet gateways. Device identification, profiling, verification, network monitoring, authentication, access controls, segmentation, and device and account management are all examples of how it accomplishes this.
Flexible Software Subscriptions
Subscription-based licensing allows enterprise networks to have continuous access to the latest networking and security innovations. They are better able to keep up with changing technologies and requirements as they grow.
Cloud Integration
Enterprise networks provide seamless connectivity between users and cloud applications as more data and applications are developed, deployed, and delivered across multiple public clouds. They also optimize workloads for on-premises and public cloud environments.
Enterprise Networking Trends
Faster Speeds
Wi-Fi 6, 5G, and newly opened frequency bands for ultra-fast, short-range transmissions are allowing more users and IoT devices in more places to connect to high-speed wireless connectivity. At the same time, the new standard for high-speed data center networks is 400 Gbps. These innovations are boosting productivity and encouraging organizations to keep innovating.
Intelligent and Automated Networks
With software that can recognize connected devices, profile them, and determine whether they can be trusted, network management is becoming increasingly automated. They can automatically detect and respond to performance issues or potential threats. Artificial intelligence (AI), machine learning (ML), and machine reasoning (MR) are now used to make networks smarter by tailoring recommendations to the specific needs of each organization.
Networks with a Specific Goal
Intent-based networking (IBN) principles are being adopted by an increasing number of businesses. Advanced analytics and software-defined networking (SDN)-based automation are used in intent-based networks to continuously align network performance to changing business needs. They capture business intent, translate it into policies that can be applied consistently across the network, and continuously monitor and adjust network performance to help businesses achieve their goals.
Networks with Zero Trust
Users, applications, and data must be better protected as a result of widespread mobility and cloud adoption. Unauthorized access is prevented, breaches are contained, and the risk of an attacker moving laterally through the network is reduced with a zero-trust security framework.