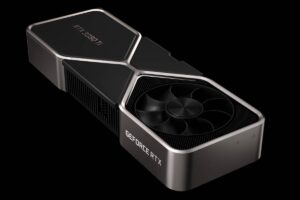 The Nvidia RTX 3080 Ti has been released and available for lucky enough to find one. Announced earlier this week alongside the forthcoming RTX 3070 Ti, the 3080 Ti serves as the costly successor to the GeForce RTX 3080, a great graphics card that made 4K gaming affordable.
Nvidia RTX 3080 Ti has an impressive 1440p and 4K performance, albeit in a smaller, quieter package with half the VRAM. It certainly is not cheap at $1200, but given the ongoing GPU shortage and the exorbitant street prices of most GPUs right now, the RTX 3080 Ti might be more affordable at MSRP.
While we expect availability to be limited at launch and throughout the year, several retailers currently have the RTX 3080 Ti in stock. Best Buy announced yesterday that it would give customers a chance to purchase an NVIDIA Founders Edition of the card at select stores today.
Customers hoping to pick it up at launch will need to line up early and secure a ticket at 7:30 AM local time before it officially goes on sale at 9:00 AM local time. If you're reading this now, the chances are good that you're already too late.
Nvidia is nerfing new RTX 3080 Ti, RTX 3080, and 3070 cards for Ethereum cryptocurrency mining. SeiMaxim offers RTX 3090 GPU cards for cryptocurrency mining that LHR does not limit. The RTX 3090 GPU is available with dedicated and virtual servers equipped with Intel Xeon Silver CPU.
You will get RTX 3080 Ti from five manufacturers, Gigabyte, Asus, EVGA, and MSI. If you're looking to purchase the RTX 3080 Ti online, your options are limited. The cards will go on sale at B&H Photo, Newegg, Micro Center, and Amazon. However, we expect the stock to sell out fast. You might have luck getting one online through MSI, PNY, Zotac, or EVGA's site.