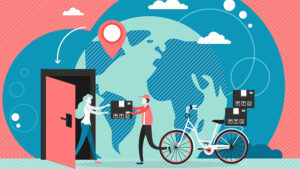 The term "electronic business" is abbreviated as "e-business." It refers to using digital information and communication technologies to support or streamline business processes from planning to implementation. However, it can also refer to the operations of online stores and other web-based businesses.
The lack of a widely accepted, precise definition of e-business has resulted from these two slightly different interpretations of the term. As a result, it's often misinterpreted, particularly in the context of e-commerce. Despite some overlap, e-commerce refers to the online trading of goods and services and thus is limited to one aspect of e-business.
E-business is a broad term that utilizes digital information and communication technologies to support and improve business processes. E-commerce, on the other hand, is a subset of e-business that only describes the online trading of products and services.
After an ad campaign about computerized procedures for automating business processes, the term "e-business" became popular. The IT and consulting firm used the term to describe how corporate systems would fundamentally change in the digital era in an eight-page essay published in the Wall Street Journal on October 7, 1997.
e-business defined at the time as "redesigning strategic business processes and meeting the challenges of a new market increasingly defined by globalization and based on new knowledge." Despite wanting to position itself as an authority on the subject, the IT company decided against patenting the term, hoping that other businesses would be interested in the concept and help create a new industry.
Core Components of Electronic business
Information, communication, and transaction are the three pillars of e-business. Business partners conduct business processes using innovative technologies on digital networks (i.e., public or private communication networks). For e-business, three key areas are especially crucial:
E-procurement is the electronic sourcing of goods and services by businesses to save money and time.
Online stores: the electronic sale of goods and services through appropriate platforms, such as websites.
Online marketplaces connect buyers and sellers of goods and services through digital networks, allowing for electronic commerce.
E-business encompasses two additional areas:
Online communities are a type of electronic communication network that allows individuals and organizations to share data and knowledge while planning transactions.
Online businesses: Electronic business collaboration links individual company services to form a virtual business with a common transaction offer.
e-business characteristics
To fully comprehend the concept of e-business, you must first understand the relationship between e-business and the net economy and be familiar with the industry's typical market participants.
E-commerce and the internet economy are two terms that are frequently used interchangeably. The net economy controls the scope of e-business, and this is the commercial use of digital data networks for handling information, communication, and transaction processes across multiple platforms.
Digitalization has resulted in significant structural changes in society and the economy since the late 1990s, if not earlier. The emphasis has shifted to the information sector since then. The systematic use of technology to collect and use the information laid the groundwork for what has come to be known as the "information economy," in which competitiveness is achieved through superior knowledge. The "net economy," as opposed to the traditional "real economy," now exists side by side.
e-business Market Participants
E-commerce can occur between many market participants, including businesses and consumers, private individuals, government agencies, and non-governmental organizations (NGOs).
In general, there are three types of market participants:
Business (B)
The consumer/citizen (C)
Administration (A)
All three categories can act as a buyer or a seller within the market, resulting in nine different e-business relationship combinations. B2C and B2B fall under the e-commerce umbrella, whereas A2B (administration-to-business) and A2A (administration-to-administration) fall under the e-government umbrella (also a part of e-business).
Function of e-business
The generation of electronic added value is the most crucial role of electronic business. The following are typical distinctions between electronic added value types:
Value construction: an online offer provides a high-level overview of a large amount of data.
Value of selection: an online offer can provide specific database information on demand.
Matching value: a web-based offer allows suppliers and buyers to more efficiently combine their inquiries.
The value of a transaction: an online offer increases the efficiency of a company.
Value of coordination: an online offer allows different service providers to combine their offerings better.
Value for communication: An online offer improves communication between different consumers.
Depending on which type of value they want to pursue, a company can choose one or more value activities, such as information collection, structuring, pre-selection, summary, or distribution. It is also possible to create a so-called "digital information product" that provides additional value to the customer is willing to pay. A website, blog comparison portal, e-book, or software application could be used to deliver this information product.
Following are the steps in the electronic value creation process:
Obtaining large amounts of data in order to find data that is relevant to the product.
Taking the data and turning it into something useful.
Delivering the customer's final information product
If new information becomes available, repeat the process – Information products must be updated on a regular basis because they are not static.
Aside from creating electronic added value, various long-term e-business goals must be determined, such as the best way to automate commercial processes or the creation of new business models (such as cutting out middlemen).
Exercising e-business is a great way to learn more about it. There are many different types of e-business activities, but here are a few examples.
The following activities belong to the e-procurement sector:
Organize implementing a desktop purchasing system (DPS) that supports the entire procurement process, including stock availability checks, order management, and payment processing.
Creating and running a product and service marketplace on the internet.
To support procurement, warehouse management, order processing, production management, and logistics, you can integrate various electronic supplier catalogs into your enterprise resource planning (ERP) system.
The following activities belong to the e-commerce sector:
Designing and maintaining an online presence or store that includes products or services that are accessible at all times, multiple payment options, automatic e-mail notifications on orders, and customer service (live chat, hotlines, or help centers).
Additional content, such as an informative blog or a comparison portal, is developed and made available. For example, using big data from cookies, purchase behavior, and customer data expands online marketing and targets advertising.
It's worth noting that new technologies like the internet of things are likely to boost the importance of e-businesses that aren't listed here.