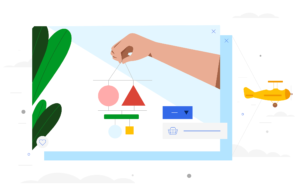 Following the global lockdown imposed by COVID-19, websites have become even more critical for businesses and independent contractors. People are now more likely to visit a website than a physical location.
Choosing the right domain name for your business, personal blog, or portfolio website is more important than ever. A few things need to be taken into account first.
Choose a domain name that is simple to read and remember for your target audience. Don't use hyphens, digits, or misspelled words. Instead of "KewlDomain4U.com," choose "CoolDomainForYou.com."
Look for domain names that reflect your brands, such as your company name, slogan, or keyword phrases related to your niche market.
Make sure you pick the right domain extension — or top-level domain — (TLD). This decision may depend on the nature of your business, industry, and the availability of your staff members.
As a seemingly minor decision, the domain extension can have a significant impact. It's used to identify a website's specific category or country code. SeiMaxim.com, for example, is registered as a .com domain, which indicates that the website is for commercial purposes.
What are the five most common domain extensions?
It's important to start with familiarity when deciding on a domain name. If you're unsure of which domain extensions are most popular in your industry, do some research.
This usually entails picking a well-known top-level domain (TLD). To help you get started, here are five of the most popular domain extensions.
The extension you choose for your domain plays a much larger role than you might expect. There are five most common domain extensions, and we'll explain why you should pick one for your new website.
.COM
The most widely used top-level domain (TLD) is .com. Originally reserved for for-profit organizations, it is now the default choice for domain name extensions.
If a .com domain name is available, it's a safe bet to go with that one.
Humans are prone to repetition. .com domains are what we've come to expect from websites because we've typed them into our browsers for decades.
Domain names and businesses are automatically interpreted by us as having the.com suffix because we are most familiar with them.
Our company name generator is a great place to get ideas for your business and domain name.
Because of human error, if your domain has a .com version that you don't own, visitors may end up on the.com version instead of yours. Typosquatting refers to the practice of acquiring domain names that are misspelled, such as.com and other misspellings of your company's name.
There is more to the popularity of the.com extension than just familiarity. A lot of SEO companies claim that using the .com suffix can improve a website's search engine rankings. In terms of backlinks, a .com domain has a lot more weight than a newer or less well-known one.
As a result, a .com domain will appear more trustworthy when you're trying to secure backlinks or public relations for your website.
It's possible that you won't be able to get a.com for your new website because it's already taken. For domains, the rise of the internet sparked a gold rush-like movement. Many successful entrepreneurs have made millions of dollars by acquiring popular domain names and then selling them for a profit.
If your.com is not being used, you may have to pay the current owner a premium to acquire it.
If you can get a .com, you should take advantage of it. But if you can't find a good .com or don't want to invest a lot of money in a squatter, there are other TLDs to consider.
.NET
.net, like .com, is accessible to anyone. Internet service providers and networks can now use what was originally intended as an alternative to dotcom websites. Companies in the tech or web industry may find the.net TLD attractive because it connotes networking and technology.
The .net extension is used by some of the world's most popular internet brands:
Slideshare.net
Behance.net
Slickdeals.net
For businesses in those industries, the.net suffix makes perfect sense and serves as a way to demonstrate and communicate the quality of your services. In addition, .net is less popular than .com, which means that your desired domain is more likely to be available.
Businesses that don't operate in the tech or web-service industries may want to avoid the .net TLD because of its association with technology.
In the case of a baking business, Cookies.net might be an ideal choice for the domain name you'd like. Users, on the other hand, may mistake your company for a service that provides web cookies rather than baked goods. Visitors to your baking website could be left in a state of confusion as a result of this inconsistency.
SourceForge.net is an example of a successful .net brand. An online service that provides support for open-source web projects is provided by them. Networking and technology-based business are the focus of this cooperative community.
Using their .net extension to their advantage, SourceForge has built a strong reputation and community in the IT industry.
.ORG
In the beginning, the .org suffix was reserved for non-profit organizations, but it has since been opened up for everyone. Many non-profits, politicians, and political parties, as well as online communities, use it as their domain extension of choice.
Although .org is widely regarded as a trustworthy and reliable source of information, many web users don't typically associate it with commercial brands
If you're looking for an SEO boost, you can't go wrong with the .org extension. It is also less popular than .com, so you have a better chance of finding your desired domain with that extension. This has led to the .org TLD becoming one of the most popular extensions for organizations to use.
For some businesses, the .org suffix makes sense, but for others, it doesn't make sense at all. As an example, many people associate.org with online communities and knowledge bases, so if you run an eCommerce store, you may want to avoid using a .org domain name. Most visitors to a .org domain are not expecting to make a purchase.
Building and cultivating communities is the key to success for websites using the .org TLD. For example, .org is used by Wikipedia, Craigslist, and WordPress. In order to grow their brands and create content, these companies all lean heavily on their respective user bases and communities.
.CO
Although it was originally meant to represent Colombia, the .co extension has since become a popular choice for international domains. Although it's a unique choice for a top-level domain extension, it's become increasingly popular in recent years.
For example, the .co TLD stands for company, corporation, or business venture. Because of its familiarity, the .co domain extension has become popular among forward-thinking business owners.
If you're a young startup that wants to position yourself as different from the competition, registering a .co domain is a no-brainer. Although the.com top-level domain is the most well-known and widely used, the .co extension is newer, shorter, and more in keeping with the brevity of today's youth. This newness has the potential to broaden your brand's appeal to a younger audience.
You may also want to register a .co domain name because of its domain availability. Premium.com domains, as previously stated, are extremely difficult to come by. And if that's the case, you'll have to pay more than you'd prefer. There is less competition for .co domains than there is for .com, so you have more options.
Despite this, .co is still less well-known than .com and carries less trust and legitimacy. Reputation and traffic could be lost, and you could be sending visitors to an already-existing site that has the same or similar name as your new site's domain. Even if a visitor is trying to access Cookies.co, they may be redirected to Cookies.com because of habit.
One of the most well-known.co domains is 500.co (also known as 500 Startups). It's a seed accelerator and venture capital fund that focuses on startups in their early stages. Because their target audience is young, innovative entrepreneurs, they represent the ideals of .co.
.US
The.us top-level domain (TLD) is another popular choice. As opposed to the other domains, .us is only available to citizens and organizations in the United States. To be eligible, an individual, corporation, or non-profit must be a permanent resident of the United States or have significant operations here.
Similar to the .gov extension, the.us top-level domain (TLD) was once associated with the United States government. In any case, it's now accessible to the general public and businesses. Websites with a .us extension that really shine are those that have a strong American or patriot identity. 
In the United States, one excellent resource is the nonpartisan website vote.us. To play off the phrase "Who's among us?" other brands cleverly end their phrases or words with the dot com suffix ".us."
Brands that don't use patriotism in their marketing or don't do business in the United States should avoid registering a .us domain because it makes sense for creative brands and patriotic websites.
Other domain Options
Many other options are available besides those listed here, so don't limit yourself there. More than 1,500 TLDs are available in addition to the five most common domain extensions that have already been included in the list.
Here are a few more popular alternatives:
.gov — Limited to government agencies
.edu — Limited to educational institutions
.info — An open extension that is short for information
.xyz — An open extension available for general use
.ly — Country code for Libya, but used by many tech startups for creative spellings
.site — A newer, generic domain extension that recently reached over 1 million registers in 2019.
Choosing the right domain name requires careful consideration. Make sure the domain extension you want to use is available and fits with your brand or personal identity as well as find a memorable and easy-to-type name.
One of the most popular domain extensions can be registered through SeiMaxim.com. You can find the ideal domain name for your new website in their extensive marketplace of available domains. In addition to that, what is the best part? As an option, you can also use their WordPress Website platform to host your site, and then use the Digital Marketing Suite to promote your business. Also, use our free Domain Name Generator to come up with a new name for your website.